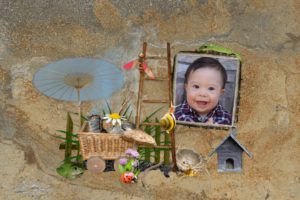 FOOD FOR THOUGHT-PUN INTENDED
 I want you to think about this simple comparison between a cake and the gene COLVIa (collagen 6a) which is over expressed in a Down syndrome.
Let's say you are going to bake a cake from scratch. You gather all of your ingredients but instead of a fourth teaspoon of salt (you can tell I've never baked a cake from scratch) you misread the recipe and put in 1/4 CUP of salt. The cake mix, when blended, doesn't know it has too much salt. You can bake it just like it is and the cake will look like a cake but it won't actually be an edible cake. This is pretty much what happens with gene over expression in Down Syndrome. The cell doesn't work around the extra proteins, ignoring them, but, instead, includes these extra proteins into the finished product. With collagen 6a the result is that all forms of collagen6 and even other types of collagen, are weakened. Collagen 6a is the bundling/matrix form of collagen 6. Let's say other forms of collagen 6 look like twigs while collagen 6a is a strong rope twining through them and tied around them making the bundle strong. In DS this rope is more like a rubber band.
The cake mix comparison is great when we think of collagen type 6a. Let's suppose you caught your error and had enough extra ingredients to balance out the recipe. You could correct the error by adding enough of the other ingredients. If you had those other ingredients, that is. In DS the other ingredients to balance out collagen are unavailable. So the cell creates collagen 6a with too few ingredients and by extension, all collagen is too weak. What can we do? This gene was fairly easy. We feed it. We give our children extra ingredients (in the form of precursor amino acids) so that collagen 6a can be made strong. Two amino acids effect COLVI6a after translation, proline and lysine. It can utilize these to strengthen the finished product.
Happy baking.
VIDEO LESSONS