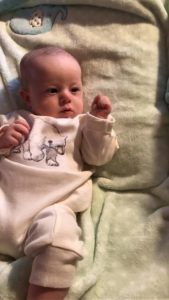 A MAGNIFICENT GIFT
By Shoshonna Levy
Adir Matan "a magnificent gift ".. this child touches me like no one else in the world ever has.
But it's in a soft and gentle ethereal way… I feel heavens hand in his.
I swear I do.
When he gazes into my eyes and I get lost with him
I m sure I know a little piece of the world to come.
We are very fortunate in these children
Though GD knows it's not easy .
I had no idea he would make my soul fly the way he does.